In my previous post, I have promised you all to announce the affiliate program that I recommend for beginners, just as me or even if you are an advanced or even a pro blogger or a marketing expert. My recommendation is definitely the Shareasale Affiliate Program.
Find a sponsor for your web site. Get paid for your great content. shareasale.com.
What is Shareasale?
Just look at their business title. They share a sale 🙂
You earn money when someone purchases the product through your affiliated link.
Shareasale Affiliate Program has spent over 20 years growing its network by nurturing relationships, building cutting-edge technology, and guiding merchants and publishers to succeed in their affiliate marketing channel.
What to do as an affiliate?
ShareASale features more than 2,500 merchants offering a variety of products and services.
As an affiliate in the Shareasale Affiliate program, you select any of the ShareASale merchants and attempt to direct sales to the merchants' websites. The merchants will then pay a commission for the sales resulting from the affiliates' referrals.
As an affiliate, you decide the specific merchants you would like to promote and how you want to promote these merchants. Affiliates can also log into the ShareASale website and check their stats and earnings in real-time.
The reason why I recommend ShareaSale is because not only do they have tons of merchants with excellent products and a good commission rate, they have also real-time tracking for all your conversion you make.
Which products to promote?
Well, this depends on which niche you are connected to and the know-how of the product. The best commission and the highest price are not always the best to promote!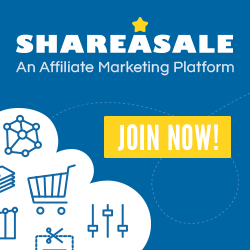 Take your time to check out the different products, read through their sales pages, the commission rate, and if they are actually selling products. Also bear in mind that when promoting a product, it needs to be connected to the content you are writing!
How to sign up and become their affiliate?
I have made this very easy for you. Just click HERE and you will be redirected directly to their sign up page.
Wishing you all tons of sales with Shareasale!